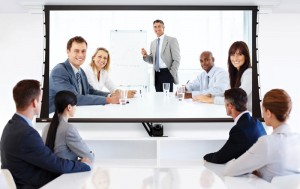 Just like the Internet, video conferencing is evolving rapidly. New efficiencies, benefits, and audiences are uncovered seemingly every week. Our new line of Video Conferencing Solutions Products – including camera lifts, screens, backgrounds and light control shades – can help to increase your face-to-face productivity while reducing costs. They will help take your video conferencing experience from functional to exceptional.
This is an introduction to our launch. Stay tuned for more in-depth information on each product.
Video Conferencing Camera Lifts
We are offering six different options to conceal your video conferencing camera when not in use.
Video Conferencing Camera Lift – Ceiling
Video Conferencing Camera Lift – Credenza
Video Conferencing Camera Box
Video Conferencing Camera Lift – Adapter Bracket for use with

AeroLift 25
AeroLift 50
Micro Projector Lift
Video Conferencing Screens
Through extensive research in screen surface technology we have developed a number of surfaces well suited for video conferencing that feature controlled viewing cones, exceptional contrast, and ambient light rejection properties.
Motorized
Manual
Permanently Tensioned
Rigid Rear
Portable
Video Conferencing Backgrounds
An array of backgrounds for a more immersive communication experience. Available on motorized, manual, portable, and even dual roller mechanisms for operation.
Neutral Backgrounds
Printed Backgrounds
Chroma Key Backgrounds
Light Control Shades
Our shades feature the fabric colors and characteristics best suited for controlling sunlight and light color during video conferencing.
Need more information? We have just posted the new Video Conferencing Solutions section on our website–see it here!
http://www.draperinc.com/VideoConferencing/index.aspx