InfoComm 2015 is barely over and we're already talking about what to do next year! We survived, even thrived at this year's show. With so many successes, it's difficult to imagine topping 2015. Let me share some of the highlights with you.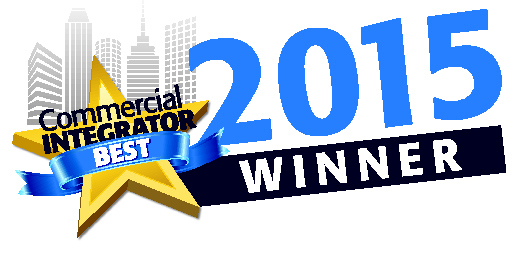 Our Optically Seamless TecVision display was amazing. I personally challenged visitors to look at the three screens we had on display and to tell me which was seamed. No one could do it! Only when they were right on top of the screen (and I had pointed it out), were they able to barely discern the line. The quality of the seam is a game changer, especially when said seam will only be on screens larger than 15 feet high. We stand behind this new technology so much that we tell clients that if they stand five feet from the screen, see the seam, and are unhappy … we will replace it. No questions asked. Joel Silver from the Imaging Science Foundation thought we were crazy! To meet the 4K standard, Joel told us you should stand one-and-a-half times the height of the screen away. At that point you should not see the pixels, or any other artifacts. For a 15 foot high screen, that means you'd be standing 22.5 feet away … not five feet! Optically Seamless TecVision was recognized with a Best of Show Award by Sound & Video Contractor and with a Best Award by Commercial Integrator! Looks like we aren't the only ones who think it's pretty fantastic.
The excitement didn't stop with TecVision. Our StageScreen, now available up to 120' wide, was recognized with an award from Rental & Staging. And an install done by Wagner Media using 4D projection mapping and our mirror systems was recognized with a Commercial Integrator Integration award. Check out the video here! Also, learn about the role our own custom mirror systems played in this case study.
While having a glass of wine on Thursday … yes we had happy hour in the booth … we chatted about how interested our customers were in the Screen Boom. It solves such a unique problem that people couldn't help but be impressed. This product is perfect for a room with high-ceilings, like many church sanctuaries, where there is really no place to hang a screen.
The Access Fit is yet another indicator of our dedication to product innovation in the screen market. Using our patented design as the basis, we added a smaller case option for recessed installations. The Access Fit may be the smallest, most compact recessed screen you've ever seen. Between the Screen Boom and the Access Fit, you can now put screens where you never thought possible!
Did you take the time to check out our graphics? Did you post any #DraperPro pictures? If not, you missed a good time … and more importantly a good message. Our Pro Portal rocks! Click here to register for access to pricing, freight quoting, order status, inventory levels, our resource library, and most importantly our toolbox with the Projection Planner!
Well I can already tell you that we'll bring even more TecVision innovation to InfoComm 2016. I also have a sneaking suspicion that our Access product line will see some additional changes. Who knows what else is in the pipeline? We have to leave some surprises for Vegas. Come see me there … during happy hour!