Last week, we decided to share some Draper products that many people may not know about. In compiling our "list of five," however, we came up with enough for two lists! So this week we present part two: Five MORE Draper products you may not know about!
Videoconferencing Products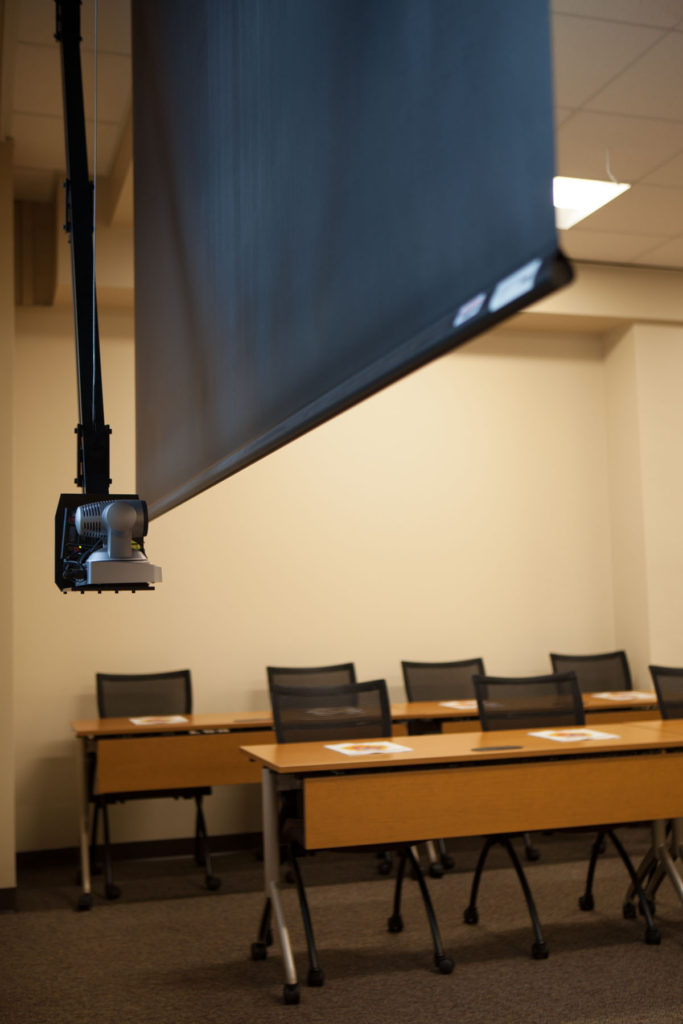 Draper's range of Videoconferencing Solutions is designed to add an increased level of professional polish.
Our Video Conferencing Camera Lifts can hide the camera in the ceiling or beneath a table top-perhaps in a credenza. The ceiling lift lowers the camera down from behind a recessed projection screen, so that the lens is just visible below the bottom of the screen.
One way to really upscale your videoconferencing look is through the use of our Video Conferencing Backgrounds. Our neutral backgrounds eliminate distractions with six muted earth tones. The also keep interference or control room lighting from creeping in. Meanwhile, our custom printed backgrounds convey a brand message, give your telepresence an air of professionalism, or even communicate more clearly between different branch offices. We print these backgrounds in-house using artwork provided by the customer.
Our backgrounds can be recessed above the ceiling or mounted to the wall, and dropped into the room via manual or motorized roller. They can also can be used on permanently tensioned frames.
Check out our full line of videoconferencing solutions here.
Screen Boom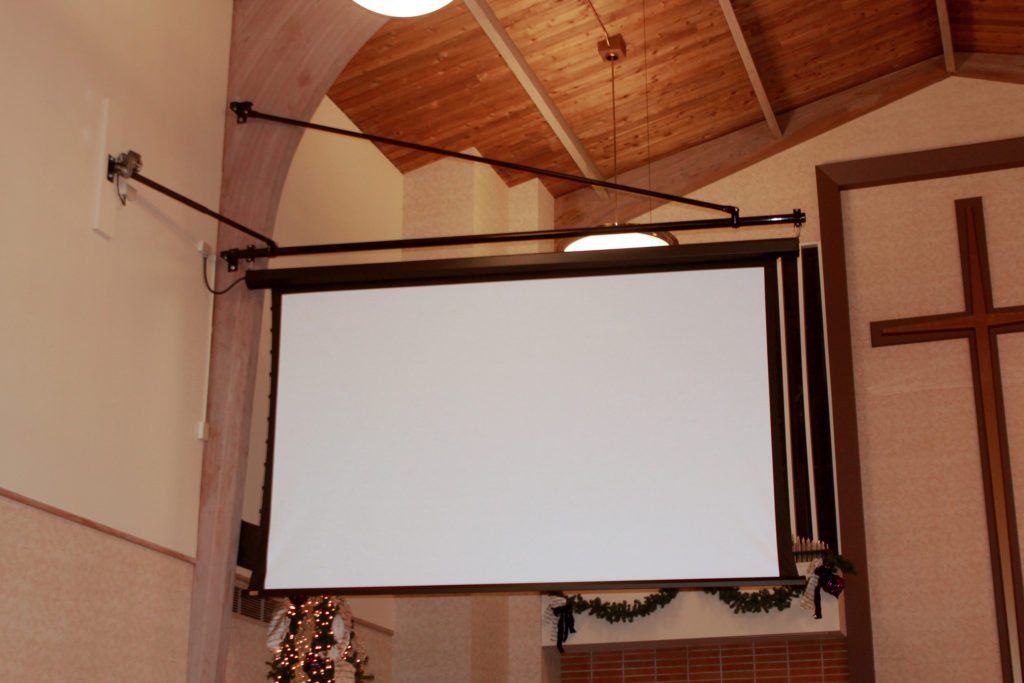 Draper's unique solution to getting a projection screen out of the way actually started with a conversation between a members of a Pennsylvania church and our gym equipment team. They needed a way to get their projection screen out of the way, and had no way to hide or recess it. They had Draper side-folding backstops in their gymnasium, and thought there might be a way to use similar parts to move the screen flat against the wall. Thus was born the Screen Boom. The Screen Boom's swing arm keeps a closed projection screen against the wall. When the screen is needed, the arm swings out into the projection space, and the screen rolls down.
Houses of worship with vaulted ceilings are particularly well-suited to this product.
For more information on the Screen Boom, click here.
Scribe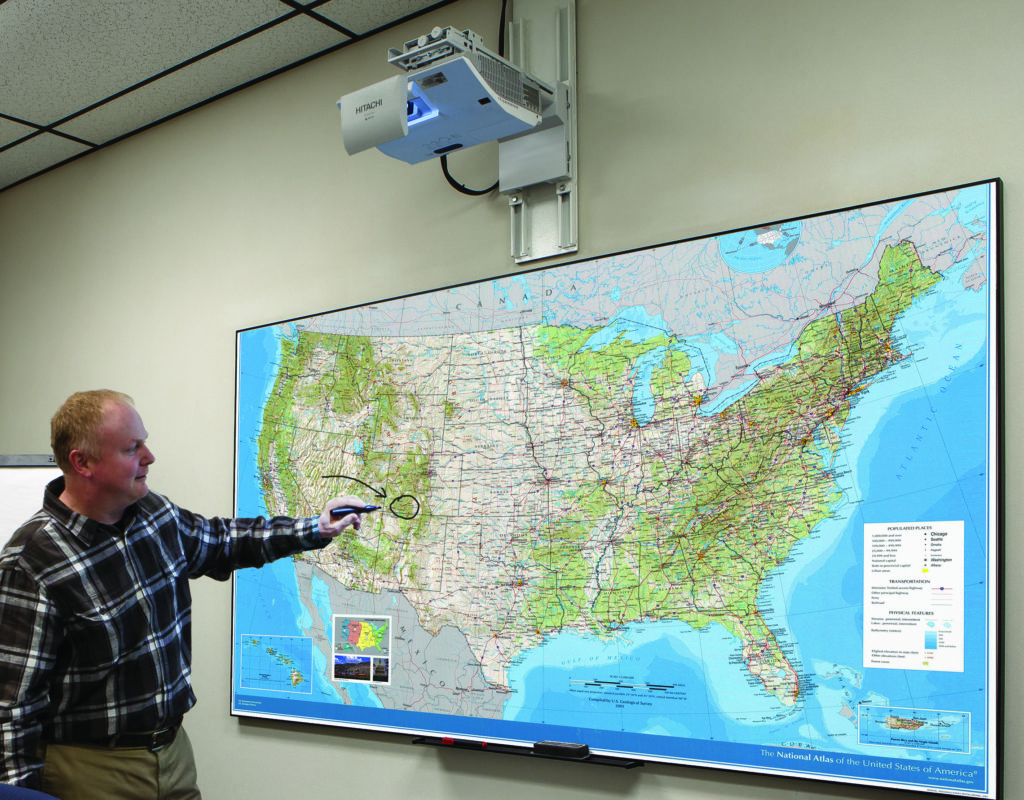 The Scribe is a write-on projection screen. Its main uses are in education and in huddle rooms—places where there is interaction desired between a projected image, the speaker, and others. Projecting a short throw image on a standard whiteboard—and even on some whiteboards marketed for projection—results in high glare and distracting hot spots. That's why the Scribe's matte surface maintains contrast and clarity. With 80% lower gloss than the typical whiteboard, Scribe maximizes picture quality and interactivity by reducing glare. Its magnetic surface allows for multiple uses and the attachment of interactive components, and the low profile black bezel frame helps the screen blend into a small area that can quickly start looking "cluttered."
The Scribe is easy to install. Sliding brackets integrated in the back of the frame can be moved to accommodate the location of mounting points.
You can find out more about the Scribe here.
Easels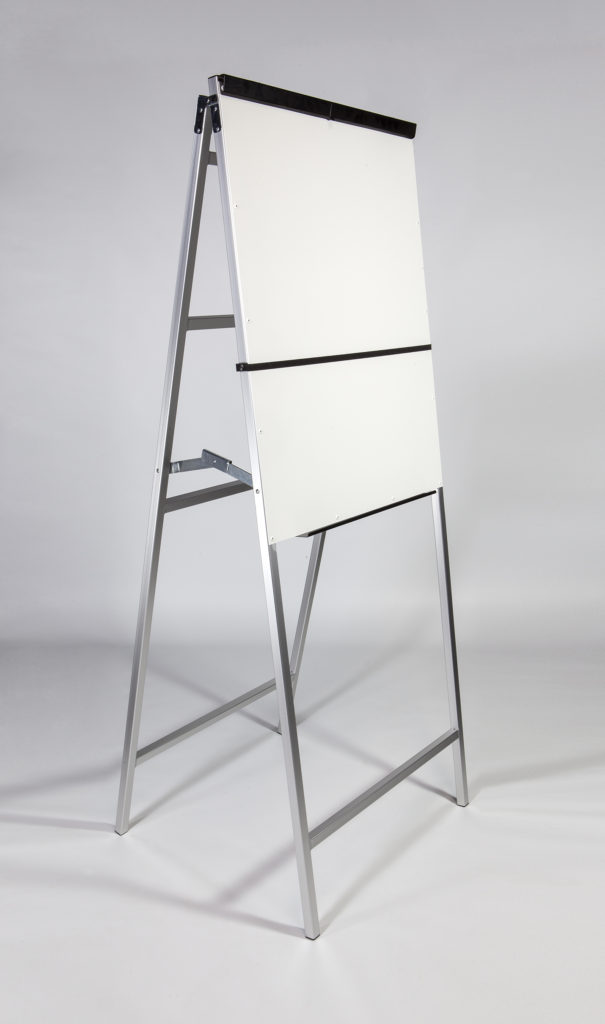 For some reason, people are really floored when they discover Draper sells easels—and has for a very long time. However, their place among Draper's product lines makes sense when you realize they are found in two places that have always been major Draper markets: schools and meeting facilities. Our DR Series paper pad and dry-erase easels come with folding or non-folding legs, and the necessary features like pen trays or hinged chart holders. Meanwhile, the heavy duty DR Series easels are the toughest easels in the world! They feature heli-arc welded 1″ square tubular aluminum frames and sturdy aluminum backboards, fixed steel pen trays, and an A-frame design with a durable satin silver anodized finish.
You can check out our selection of easels here.
Custom Everything?
One of Draper's greatest strengths is our ability to develop custom solutions.
For instance, if none of our standard lift solutions works, our engineers will warm up their mouse clicking hands and go to work designing a custom product. We can move projectors, flat panels, and other AV equipment out of just about anywhere and into your space. Look here for more details.
We can also design and manufacture custom shade headboxes and brackets. Variations in finish, size, and even mounting hole placement are no problem for our design team. We'll put together a drawing, then move on to producing 3D samples before the final stage of manufacturing. This white paper will tell you more about custom headboxes. This case study is a nice example of developing a custom bracket.
We've also brought the possibility of customization to projection screen viewing surfaces. With Optically Seamless TecVision, we have the opportunity and ability to tweak current formulations or develop new ones when the need for a specific solution arises. For more about TecVision, click here.
Have other product needs or questions? Call us—you will likely find that we have a solution for you—and if we don't, then we'll find one!