A great audiovisual experience requires planning ahead. Knowing who will be using the space, what the content will be, the limitations of the space and other essentials help you put together an AV design that works. But the best AV experience begins even before that.
At Draper, we understand that for you to offer the best AV experience, we must plan ahead and provide you with the best AV solutions. Here are some examples of how we have incorporated the "planning ahead" mentality into our designs:
Stagescreen/FocalPoint Modular Screens
Portable projection screens are a staple in the rental and staging sides of AV. But older designs that didn't plan ahead led to frustration and comments such as these:
"A broken part equals a frame we can't rent."
"If we do a really big or custom screen for a show, that frame is only used once since we'll probably never do that size again."
Draper engineered a modular portable screen concept featuring interchangeable frame pieces. All available sizes of the StageScreen and FocalPoint utilize combinations of the same frame sections; these interchangeable parts make it easy to reuse frame pieces to create different size viewing formats. By keeping certain frame parts and viewing surfaces in inventory, dealers don't have to worry about broken frames torpedoing plans.
Click here to learn more.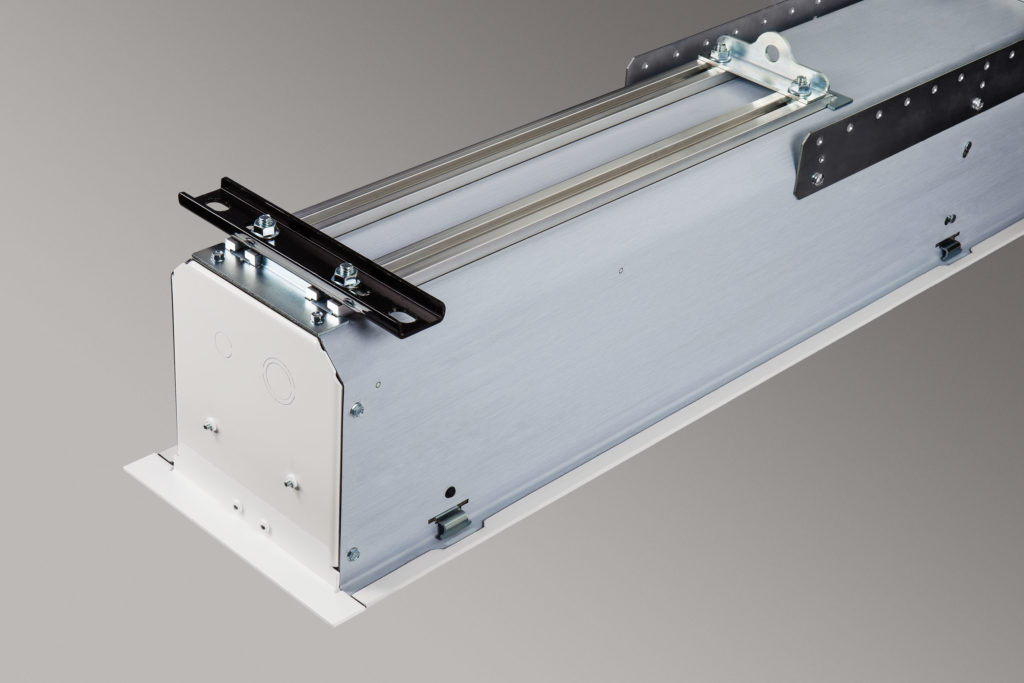 Access
When planning for ceiling-recessed projection, there are a few pitfalls for designers. There may not be enough information about users and content to correctly choose screen size, aspect ratio, and viewing surface. In addition, there is the possibility of job site damage to the screen during construction.
Draper was the first screen manufacturer to innovate a solution. The essence of our Access concept is that we've done the planning for you! These ceiling recessed headboxes are designed to be installed during the "dirty" phase of the construction process. The screen (motor-in-roller and attached viewing surface) installs in seconds with preset latching brackets once construction is completed.
The Access concept also guards against needing a completely new unit when needs change or viewing surface technology improves. Simply remove the old roller and surface assembly and replace with a new one.
Details can be found on the Draper website.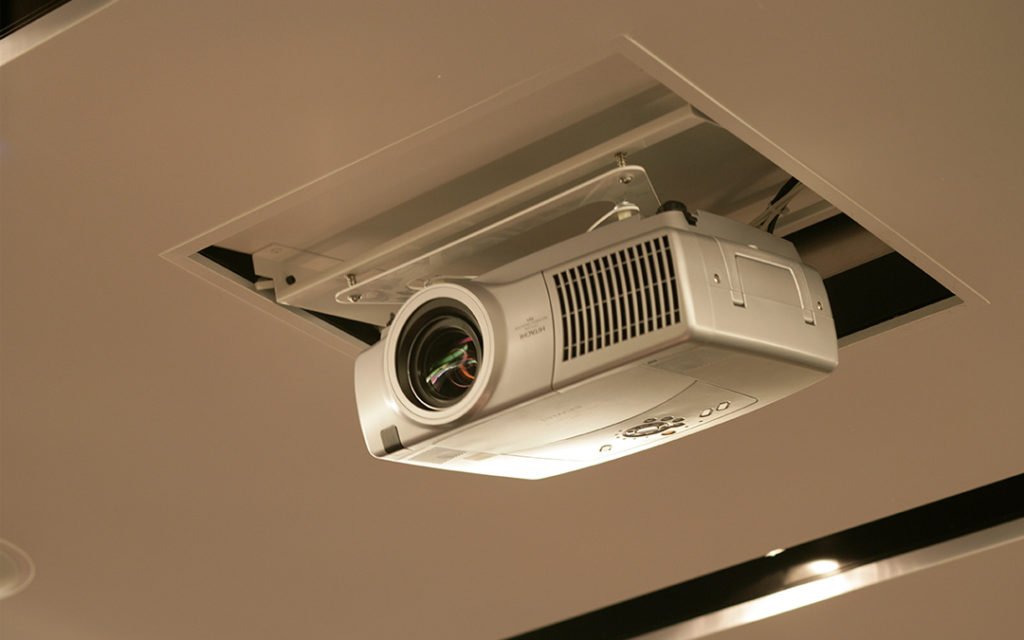 Orbiter
Have you ever tried to install a projector above an angled ceiling? Doing so requires extra planning and installation work. Angles need to be worked out, and closure panel mounting hardware cut precisely to account for the ceiling slope.
A better way would be to develop a bracket that adjusts to the slope of a ceiling, which is just what we did.
Our angled ceiling adaptor is an optional addition to the Orbiter projector lift. It allows the projector and lift to be installed in an angled ceiling or wall. The Orbiter is a unique lift that provides an impressive entrance as it quietly rotates the projector into presentation position. It's ideal for small ceiling spaces, as well as angled spaces.
For more information click here.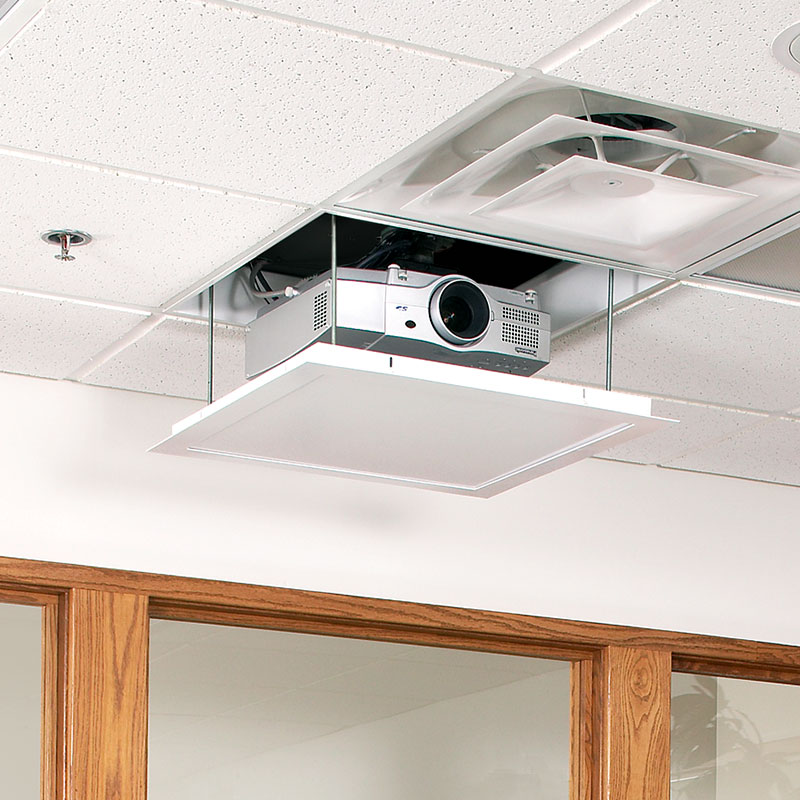 AeroLift 35
Installing AV equipment in tight spaces can be a real hassle. In these circumstances, it takes pinpoint planning and performance to make everything fit. But sometimes, despite all the planning, installers find themselves where there's an extra inch of space, or perhaps things are a bit too tight.
Draper planned for this eventuality by building some adjustability into our smallest projector lift, the AeroLift 35. The AeroLift has four mounting angles for suspending or direct mounting the unit from above, or direct mounting from the sides. These angles provide up to 1½" of side-to-side adjustment to cope with those little spacing surprises that can crop up.
Click here for more information on the AeroLift 35.
VersaRoll™
The great thing about rear projection is the incredibly high resolution and the stunning images you can achieve.
The down side? Trying to get a big, flat, rigid piece of glass or acrylic into a building, especially on the upper floors requires a lot of site planning and schedule coordination.
We decided it didn't need to be that complicated and introduced a semi-rigid material that ships rolled up inside a crate.
VersaRoll (pictured at the very top) provides ease of mobility and maneuverability in gaining access inside buildings for very large projection screens. It also addresses the added costs of shipping and handling associated with very large screens, while providing ease of installation.
We didn't sacrifice quality for increased convenience. VersaRoll utilizes the same rear projection screen coatings as our IRUS and Cinescreen rigid screens for a truly great projection experience.
Details on the VersaRoll can be found here.
Are you planning for a unique AV experience? Contact us to learn how we can help plan and design the best solution. Click here for our contact page and find the Draper representative for your area.